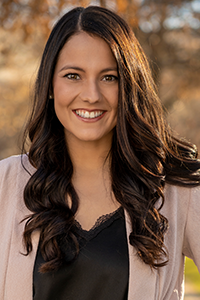 Corian Smith
Assistant Vice President, Treasury Management
Office: 405.608.1046
Mobile: 580.273.7467
[email protected]
Corian Smith joined the First Liberty Bank team in 2020 and quickly became an invaluable asset to the company. As a Treasury Management Officer, she has done more than grow and maintain commercial depository accounts. She bends over backwards every day to ensure each customer's needs are met and service expectations are exceeded, regardless of size or industry.
In 2021, Corian created and implemented the bank's nonprofit banking program. This program helps nonprofit organizations with their treasury management needs and hosts free nonprofit educational events for customers and non-customers alike.
Corian has a genuine interest in improving and giving back to our community and has provided her time and leadership to a number of organizations since joining First Liberty Bank. This includes serving on the Northwest Oklahoma City Chamber board, as President of the OKC Chapter of the Accounting and Financial Women's Alliance, and as President of First Liberty Bank's employee organization, The Liberty Club. She is also a graduate of the Northwest Oklahoma City Chamber's Leadership Class of 2021-2022.
Corian's hard work doesn't stop at the end of the day. In her free time, Corian volunteers with Meals on Wheels and Positive Tomorrows, is an advisory board member with Cavett Kids Foundation and facilitates opportunities for her friends and colleagues to volunteer for worthy causes.
A proud graduate of Oklahoma State University and alumni of the Phi Kappa Phi Honor Society, Corian has extended her collegiate tradition of receiving accolades into her career. She was awarded First Liberty Bank's Annual Quality Service Award for 2021, named Oklahoma City Young Professionals 2021 New Member of the Year Award, and was named one of the Journal Record's Top 50 Most Influential Young Professionals.
No matter your business's needs, Corian is an excellent resource for small businesses and nonprofit organizations. Contact her at 405.608.4500 or [email protected]
---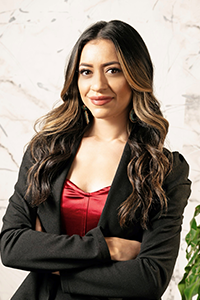 Evelyn Zermeño
Senior Vice President, Treasury Business Development
Office: 469.389.3665
Mobile: 214.784.1304
[email protected]
Evelyn Zermeño joins First Liberty Bank with ten years of banking industry experience. Born in Guadalajara, Mexico, Evelyn was raised in Dallas, TX, and loves her hometown. She began her banking career as a teller while attending college and graduated from Richland College in 2013 with a degree in Business Management.
After working through many areas of the bank, Evelyn found her niche in Treasury Management Sales. Throughout her career, she determined it was her duty to serve clients wholeheartedly and to help them achieve their ultimate goals.
Evelyn has received many awards throughout her banking career, including Top Relationship Banker in the Dallas region and recognition as a team player. She was also a part of the highest-performing banking team in DFW, winning the coveted Elevation Award. UNIDOS Dallas PD recognized Evelyn for Financial Resources and Literacy efforts in the Dallas community. She is consistently recognized for her community outreach efforts.
Evelyn invests significant time outside of work in efforts to improve the community. She is a Board Member of the Greater North Texas Hispanic Chamber of Commerce and serves as the Membership Committee Chair. Evelyn also holds the position of Community Relationships Director for K.I.N.G. Assistance and is a Hispanic Women of Texas member.
In her spare time, Evelyn teaches Fundamental Cash Flow for business owners, a Banking 101 course, in partnership with chambers of commerce throughout DFW. She also volunteers her time with various nonprofits helping children in underserved communities and enjoys being a mentor for young professional women.
---