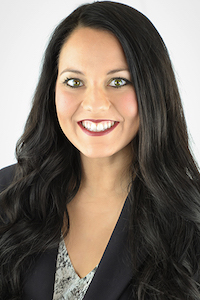 Corian England
Assistant Vice President, Treasury Management

Phone: 405.608.1046
[email protected]
Corian England joined the First Liberty Bank team in 2020 and quickly became an invaluable asset to the company. As a Treasury Management Officer, she has done more than grow and maintain commercial depository accounts. She bends over backwards every day to ensure each customer's needs are met and service expectations are exceeded, regardless of size or industry.
In 2021, Corian created and implemented the bank's nonprofit banking program. This program helps nonprofit organizations with their treasury management needs and hosts free nonprofit educational events for customers and non-customers alike.
Corian has a genuine interest in improving and giving back to our community and has provided her time and leadership to a number of organizations since joining First Liberty Bank. This includes serving on the Northwest Oklahoma City Chamber board, as President of the OKC Chapter of the Accounting and Financial Women's Alliance, and as President of First Liberty Bank's employee organization, The Liberty Club. She is also a graduate of the Northwest Oklahoma City Chamber's Leadership Class of 2021-2022.
Corian's hard work doesn't stop at the end of the day. In her free time, Corian volunteers with Meals on Wheels and Positive Tomorrows, is an advisory board member with Cavett Kids Foundation and facilitates opportunities for her friends and colleagues to volunteer for worthy causes.
A proud graduate of Oklahoma State University and alumni of the Phi Kappa Phi Honor Society, Corian has extended her collegiate tradition of receiving accolades into her career. She was awarded First Liberty Bank's Annual Quality Service Award for 2021, named Oklahoma City Young Professionals 2021 New Member of the Year Award, and was named one of the Journal Record's Top 50 Most Influential Young Professionals.
No matter your business's needs, Corian is an excellent resource for small businesses and nonprofit organizations. Contact her at 405.608.4500 or [email protected]
---